Kitchens always seem to be the place where people gather. With either family of friends, sitting in a kitchen feels comfortable and familiar. That is why efficient space management is so important. A kitchen can have everything needed and still look amazing and spacious.
Keep the clutter under control with these organizing tools. They will make your kitchen the place to be.
10. Seville Classics Commercial-Grade NSF Top Work Table
A sturdy table is perfect for the pantry. Shelves are not always strong enough to hold canned goods for example. Use the shelf to store big and heavy pots and pans. Wooden bins are great for storing potatoes, carrots, apples. Any heavy produce that doesn't require refrigeration can find it's place on this adjustable table. In the kitchen it can also serve as a veggie chopping station. The wheels are a great feature, as you can easily move it near the sink or the stove. If entertaining, cover it with a table cloth, make a display of finger foods and move it wherever the crowd is.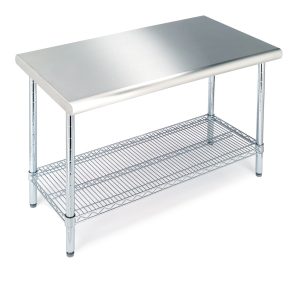 9. Kinetic Pot and Pan Rack with Ceiling Hooks
A way to have your kitchen look professional and still charming. You'll get the feeling that you're cooking in the best restaurant in France. Don't just show off perfect pots, hang up utensils with most personality. You can also put up weekly menus or recipe cards.
This rack can hang above your kitchen island and save a lot of cupboard space. The hooks can be rearranged as needed.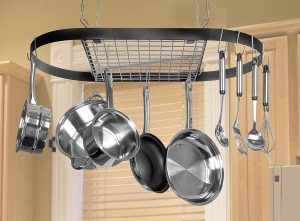 8. Refrigerator Organizer 4 Tier Magnetic Fridge Spice Rack Paper Towel Holder Multi-purpose Storage Shelf with 5 Hooks
Magnets are the most versatile, you have all the freedom of moving the rack whenever you wish. This would be great for the side of the fridge. It can hold your paper towels and aluminum foil. Hooks on the side are good for scissors, hand towels, bottle openers. Instead of spices, use the racks for little decorative objects, motivational quotes, small picture frames, something to enjoy as you're drying your hands. The kitchen always gets messy with cooking, but this system will keep everything safe.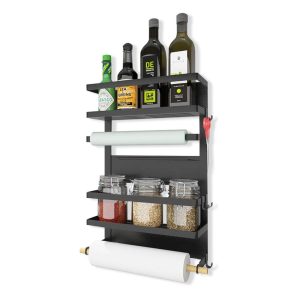 7. 3-Shelf Shelving Storage Unit, Metal Organizer Wire Rack
For appliances, pots and pans or other things you use often. You can even give this organizer a theme, like baking. The lowest shelf can hold baking accessories: measuring cups, spatulas, decorating tools. The middle shelf would then have the flour and other ingredients. Use transparent containers for easy access. The top shelf would hold the mixing bowl or cookie sheet and be used as a working space. If you like to grill, the bottom shelf can have utensils, the middle shelf trays and bowls for the uncooked/ cooked food and the top could be used for prepping.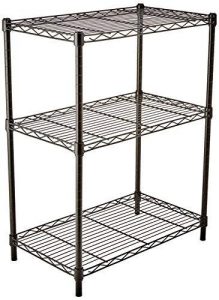 6. 'Invisible' Acrylic Spice Rack Wall Mount Organizer [3 Pack 15″ Shelves] Ultra-Clear Shelves, Strong, Sturdy & Space-Saving
This minimalist look lets the color of the spices become the art in your kitchen. Keep the labels on the inside so the containers will always look immaculate.
They can be mounted as needed. You can place two racks of savory spices on the wall next to the stove. One other rack can be full of beautiful sprinkle jars and mark a cupcake decorating area.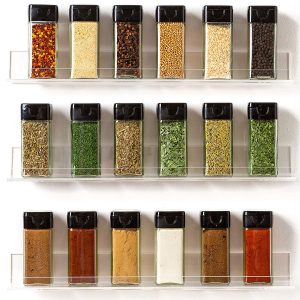 5. SANNO Large Dish rack Expandable Dish drying Rack
This rack will fit over your sink and save some counter space. When dry, it can just go into a cupboard. Also, you can use it inside the cupboards to neatly organize pot lids or Tupperware. It comes in handy when preparing a meal, as it's easy to wash the veggies in it. And they can be left to drain while you do something else. It can also be used in the fridge, to keep all the ingredients for the next meal in one place.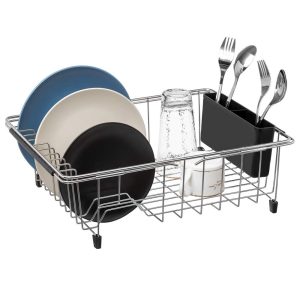 4. Unum Chrome Wall-Mount/Cabinet Door Spice Rack
A spice rack doesn't always have to hold spices. It can be a great way to simply decorate the kitchen. As these can be placed anywhere, they could be used to hold recipe cards or cookbooks. To save space and keep the paper from deteriorating, set them on the interior of the cupboard door. These can also be used in the pantry to hold snacks. Treats will be visible and organized, yet higher than children's reach.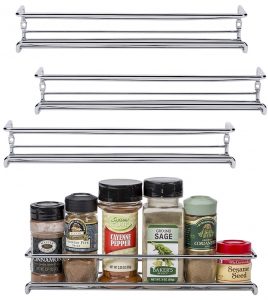 3. 2-Tier Standing Rack EZOWare Kitchen Bathroom Countertop Storage Organizer Shelf Holder Spice Rack
Versatile and sturdy, this rack can be used for pretty much anything. It's perfect for the space under the sink, where cleaning products can create chaos. One on each side, with taller products on the top shelf. Give each shelf a category, for example the lower one is for stovetop cleaning products and the top one for sanitizing items. This way you'll save space and time.
Another good use is for pretty jars and containers of rice, sugar, other non perishables in the pantry.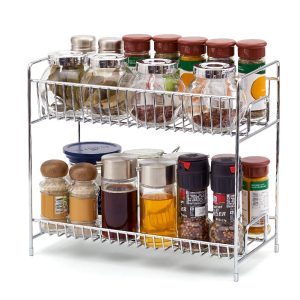 2. DecoBros 3 Tier Wall Mounted Spice Rack, Bronze
An elegant rack, to be used for more than just storage. There are plenty of creative ways to fill this with something you like to do. The lowest rack can have little containers of beautiful succulents. The middle and top can be occupied by herb pots. Use glass or porcelain to stay stylish. A different idea is for tea and coffee lovers. Place this rack above the coffee filter or kettle for a complete coffee station. Set a variety of coffee and teas on the top shelf. A sugar caddy, spoons and other accessories can be on the middle shelf. The lowest shelf can hold biscotti or cookies that accompany the beverages.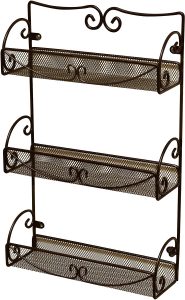 1. Over the Kitchen Sink Dish Drainer Drying Rack, Chrome
This drainer can be used to easily store and wash salad or fruit and vegetables. It's great for a small kitchen, even if the sink is not partitioned. After rinsing the dishes, place them in the rack over the sink. Scrub them all, then rinse well and just leave them until dry. Useful even if you have a dishwasher, as there's always something that requires hand washing.
This selection of racks and baskets can be used to organize pretty much anything in the kitchen. The flexible and smart style will fit any type of decor, bringing together a polished look. The kitchen doesn't need special decorations, let everyday items brighten up the room in a new way.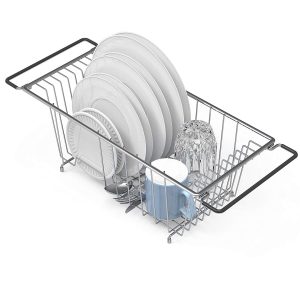 Happy Decorating! Cheers!